The Janet Achille Scholarship
The Peterborough Woman's Club of New Hampshire is offering this $1000 scholarship in memory of Janet Achille. Any woman over the age of 21 residing in the ConVal School District who wants to obtain educational credentials or skills so that she may return to work, further her career, or pursue a change in career may apply.
Our 2023 Award Recipient Alexandra Allen-Byam!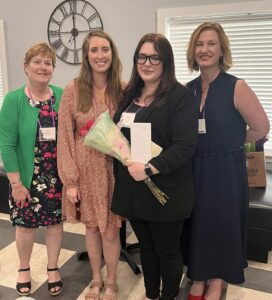 Alexandra plans to become a funeral director- a profession she says was like a "coming home" when she realized this is how she could make a difference. Alexandra explained the industry is now 70% woman run and is evolving to include a caring support system for families long after funeral services have ended- an area Alexandra looks forward to nurturing. This scholarship is made possible through the generosity of the Achille family.
Check back for the 2024 Janet Achille Scholarship application deadline.
*You must provide written proof of acceptance by your educational institution. You may mail your completed application to:
PWC ACHILLE SCHOLARSHIP
PO BOX 343
PETERBOROUGH, NH 03458
or email your materials to: info@peterboroughwomansclub.org
​​with "Achille Scholarship" in the subject line. Applications must be received on or before the stated deadline.
​We look forward to receiving your applications!