ConVal High School Scholar
Maciocci Scholarship
Each year, the PWC presents one $1500 college scholarship to a high school senior girl from the ConVal School District, to honor and recognize outstanding service to her school and the greater community.
*Female ConVal High School seniors can apply with the ConVal Regional High School Common Scholarship Application accessed through Naviance.
Our 2023 Award Recipient Eva McCullough!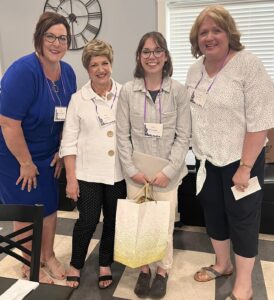 Eva spoke about how important it is to give back to others and take the time to talk and learn about people from all different backgrounds. Spending time volunteering with Farmsteads of New England in the summer has been one of Eva's most meaningful experiences. Eva graduated from ConVal High School this year and plans to go to Northeastern University in the fall.
The application and all supporting material are submitted in April each year. Check back for our 2024 application deadline!
Students from outside ConVal High may submit the application below with all supporting materials to laurenmartin24@gmail.com.